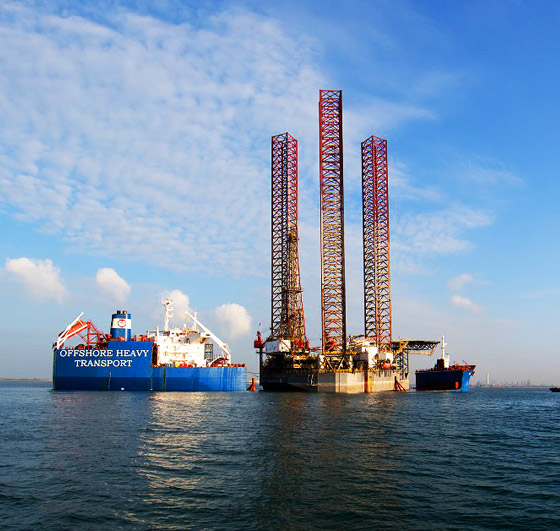 About us
Shelf Drilling Holdings Limited is a private company committed to becoming the best-in-class international jackup drilling contractor. The principal investors in Shelf Drilling are Castle Harlan, CHAMP Private Equity and Lime Rock Partners.
Shelf Drilling is working closely with Transocean under a transition services agreement to ensure a safe and seamless transition. Our management team has been formed largely from Transocean's senior leadership team and is led by David Mullen, who has extensive experience in our industry. In addition to our proven rig asset base currently drilling in 11 countries, Shelf Drilling will have approximately 3,500 employees.
Shelf Drilling is headquartered in Dubai with locations in Southeast Asia, India, West Africa, Egypt, Saudi Arabia and Italy. With a sole focus on shallow water drilling, and many of the world's leading oil companies as customers, Shelf Drilling is positioned to become a significant player in the market from day one. Customers include Chevron, ExxonMobil, ONGC, Perenco, Petrofac, Saudi Aramco and Total.
Our History
2021

December 2021

Shelf Drilling Chaophraya and Shelf Drilling Krathong awarded long-term contract extensions in Thailand

November 2021

12 rig-years of backlog added with ONGC India across 4 rigs from April to Nov

June 2021

1-year contract plus options awarded to Shelf Drilling Tenacious by CABGOC in Angola, featuring major technical innovations

May 2021

10-year extension with Saudi Aramco for High Island IX

March 2021

Improved liquidity by issuance of $310 million of new senior notes and closing of select rig sales

2020

December 2020

Signing of sale and purchase agreement for Shelf Drilling Journey

January 2020

Acquisition of Shelf Drilling Enterprise and contract secured with Chevron Thailand

2019

December 2019

35 rig-years awarded for four rigs contracted with Saudi Aramco

July 2019

Shelf Drilling Scepter secured contract with Chevron Thailand

May 2019

First CJ-46 rig – "Shelf Drilling Achiever" secured contract with Saudi Aramco

February 2019

Signing of transaction with China Merchants to acquire two newbuild CJ-46 jack-ups

2018

July 2018

Purchase of Shelf Drilling Scepter

June 2018

Listing on Oslo Børs and Redemption of Preferred Equity

June 2018

RCF Extension and Long-Term Refinancing of Remaining Debt

January 2018

Long-Term Refinancing of HY Notes

2017

April 2017

Equity raise on Norwegian-OTC list to acquire 3 premium jack-ups

June 2017

Second newbuild rig "Shelf Drilling Krathong" starts contract with Chevron Thailand

April 2017

Shelf Drilling takes delivery of the second newbuild rig "Shelf Drilling Krathong" from Lamprell shipyard

January 2017

Completion of refinancing transaction to create significant value

2016

December 2016

First newbuild rig "Shelf Drilling Chaophraya" starts contract with Chevron Thailand

December 2016

Commencement of a 380-day contract with Shell in India

April 2016

Commencement of a two-year contract with Chevron Nigeria

2015

June 2015

Start-up of operations in UAE with NDC resulting in ten rigs in the Arabian Gulf

2014

October 2014

Steel Cutting Ceremony in the UAE for the two newbuilds for Chevron Thailand – Shelf Drilling Chaophraya and the Shelf Drilling Krathong

May 2014

Signing of 5-year contracts with Chevron Thailand for two newbuild jackup rigs

April 2014

Signing of 5-year contracts for multiple rigs in the Arabian Gulf with Saudi Aramco

2013

December 2013

Fleet achieves substantial independence, majority of rigs transferred to Shelf Drilling operational control

2012

30 November 2012

Establishment of Shelf Drilling following the acquisition of 37 jackup drilling rigs and one swamp barge from Transocean
Shelf Drilling  has  three  core  strategic  priorities
Focus
Shallow water drilling is Shelf Drilling's sole focus, with a flat, operationally- focused organization dedicated to outstanding customer service.
Reliability
With safety at the forefront of everything we do, Shelf Drilling creates an incident-free environment where no one gets hurt. We deliver outstanding performance through continued investment in our people and maintaining our rigs to the highest reliability and quality levels.
Relationships
Shelf Drilling's goal is to develop long-term and mutually beneficial relationships with customers and suppliers and to be the shallow water drilling contractor of choice.
PRINCIPAL  INVESTORS
Shelf Drilling's three principal private equity investors combine global reach,
deep oil and gas industry experience and expertise in launching new
companies from larger organizations.
Castle Harlan
Castle Harlan was founded in 1987, with its origins starting in institutionalized private equity in the 1960s. The firm has participated in eight private equity funds totalling approximately $6 billion in capital commitments. Castle Harlan's five North American focused funds have invested in more than 50 businesses, totalling over $10 billion of enterprise value, primarily in North America and Europe. For more information, visit www.castleharlan.com
CHAMP Private Equity
Since 1987, CHAMP Private Equity and its predecessors have managed ten private equity funds with total capital commitments exceeding $4 billion. The group has made over 70 cornerstone investments and focuses on identifying companies that offer value creation opportunities through sustainable earnings growth based on superior management and investment in growth initiatives. For more information, visit www.champequity.com
Lime Rock Partners
Established in 1998, Lime Rock manages nearly $5 billion of private capital for investments in the energy industry. From five offices on three continents, Lime Rock seeks to be a creative investment partner that helps build differentiated, high-growth E&P, service, manufacturing, and oilfield technology companies. For more information, visit www.lrpartners.com